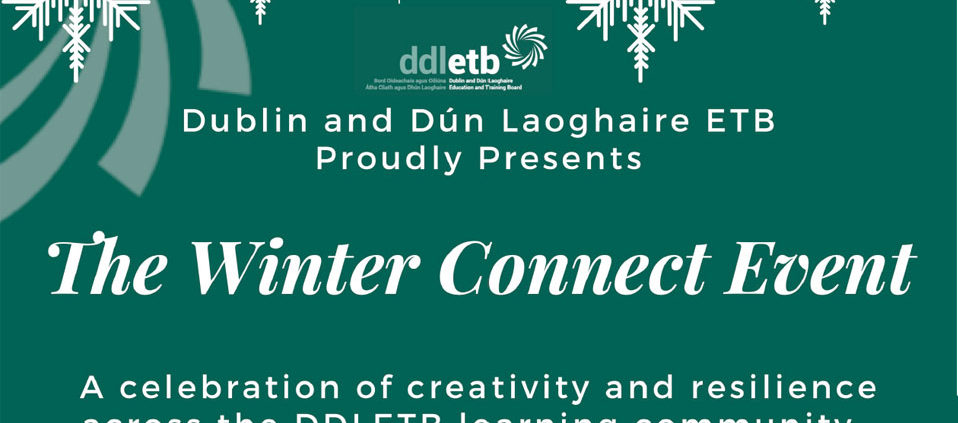 DDLETB Proudly Presents …
The Winter Connect Event – Celebrating Creativity & Resilience Across The DDLETB Learning Community
Are you a staff member or a learner in DDLETB? Are you
particularly proud of your learners, staff, teachers or parents this year? Then tell us about it!
We'll stream live, using TEAMS, into face to face and remote
DDLETB classrooms. 'The Winter Connect Event' will celebrate the creativity and resilience of our learning community on Thursday 17th December!
So if you'd like to share a message, song, poem, story, rap, dancer anything else creative that represents your school, college or centre, then enter using the link on the line below on/before Friday 27th November.
How to Enter
1) Record your entry, don't worry about the quality.
2) Complete the Form below and upload your entry file.
3) We'll be in contact to record your entry for the live event.
Click HERE to upload your entry Form
Contact sconroy@ddletb.ie for further information
https://www.ddletb.ie/wp-content/uploads/2020/11/Winter-Connect-DDLETB.jpg
757
958
Jennifer Farley
https://www.ddletb.ie/wp-content/uploads/2018/02/logo-1-1.png
Jennifer Farley
2020-11-20 16:02:22
2020-11-20 16:02:22
The Winter Connect Event - Celebrating Creativity & Resilience Across The DDLETB Community