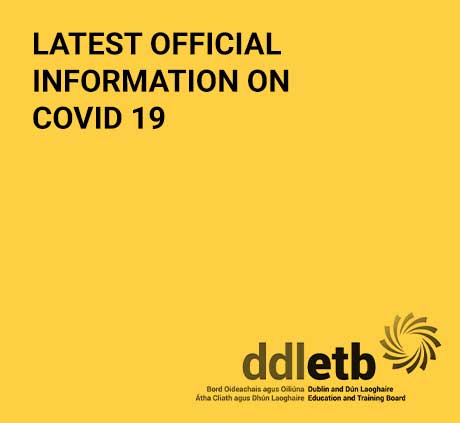 Covid 19 Official Information
Official Government Covid 19 Updates
Resilience and Recovery 2020-2021: Plan for Living with COVID-19
Ireland is moving from a short-term emergency response approach to a medium-term approach to managing risk and repairing the damage that COVID-19 has inflicted on society.
A Framework for Restrictive Measures has been developed by the Irish Government to help us to go about our daily lives as much as possible, while managing the behaviour of the virus. Visit the Government website for the latest information on COVID-19.
Updated 4 January 2021
Ireland is now at Level 5. 
Contact Us
Head Office:
Phone 01- 4529600
9.00 am – 1 pm & 2pm – 5pm
Monday to Friday
Email:
General Enquiries:
info@ddletb.ie
Glaoigh orainn
An Phríomhoifig:
Fón 01- 4529600
9.00 am - 1 pm & 2pm - 5pm
Luan go hAoine

Ríomhphost:
Fiosrúcháin Ghinearálta:
info@ddletb.ie