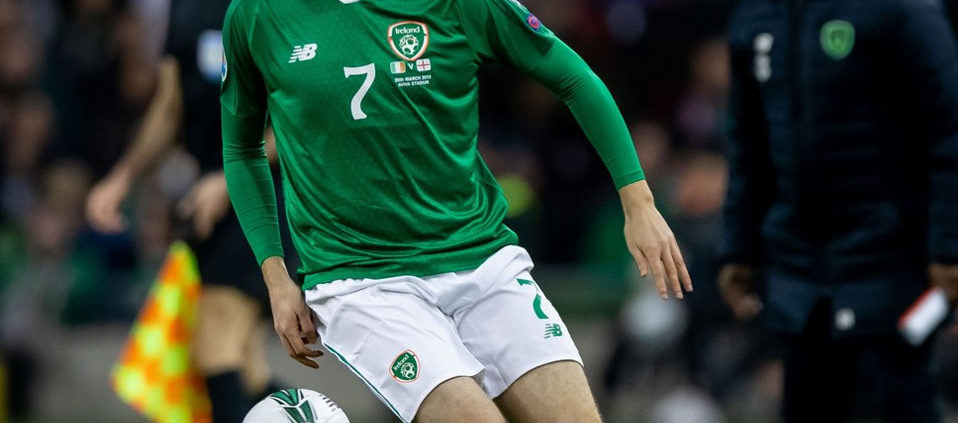 The Republic of Ireland's Matt Doherty has made a generous donation to Cabra ETB. Matt started as a young player in Cabra with The Bogies.
Matt went on to train under the watchful eyes of FAI-Education & Training Board Player Development programme coaches, Harry McCue and Gino Brazil, both former League of Ireland professionals.
Matt is a graduate of the FAI-ETB course in Cabra, which gives young players an opportunity to train full time while also pursuing educational qualifications to fall back on should their dream of a professional football contract not materialise.
The FAI-ETB Player Development programme has an extraordinary record of player progressions in recent years with over 100 current League of Ireland players having graduated from the programme and a number of senior internationals including Matt, Sheffield United's Enda Stevens and Burnley's Kevin Long also following Matt into the Premier League.
This week, Matt Doherty initiated a gesture to say thanks for the help in getting there! The kind gesture will see the agency which represents him cover the cost of new IT and training equipment for the Cabra course which will be of great benefit to the young players who are now in the position that Matt once was. Doherty is represented by Gestifute, the agency founded by Jorge Mendes, the agent who also represents Cristiano Ronaldo and Jose Mourinho among other stars, and is further supported by Polaris Sports, one of the leading commercial agencies in the world, which is part of the Gestifute group.
Mendes and Gestifute's Irish-based staff became aware of the FAI-ETB course via a conversation with Matt's father, Tom who explained that Matt had trained full time for a year on the FAI-ETB course before the opportunity to sign for Wolves came along. Fascinated by this slightly unusual route into Premier League football a spark of interest was ignited. Mendes' agency has an arrangement with his clients whereby they nominate a number of organisations or charities to support annually, and the FAI-ETB course in Cabra was nominated by Matt for a donation to cover the cost of the IT and training equipment.
FAI-ETB Cabra Course Coordinator, Harry McCue said: "It's really great that Matt has remembered the opportunity which our course gave him to train full-time and I believe it had a big influence on improving his game and helped him to reach the fitness levels required to get to the next stage of his career.
"Of course, Matt had great ability and resilience which was most important. However, it's really nice that Matt and his dad Tom have acknowledged the work that we do here in the FAI-ETB courses to help young players progress, whether it's as a pro footballer or to get them to college.
"It's worked out well for Matt and we're delighted for him. This gesture he has now made via his agency will provide some great resources for the lads we have now who are looking to be the next Matt Doherty!"
https://www.ddletb.ie/wp-content/uploads/2020/07/Matt-Doherty.jpg
757
958
Jennifer Farley
https://www.ddletb.ie/wp-content/uploads/2018/02/logo-1-1.png
Jennifer Farley
2020-07-24 14:53:57
2021-12-13 14:08:30
Ireland Football Player Matt Doherty Makes Donation to Cabra FAI-ETB Centre