This is a guest post by Youthreach Marketing and Development Facilitator, Marie Rankin. Marie recently travelled to Brussels with Christine Hughes,  Youthreach Rush Coordinator and Ava Kessie, past student from Youthreach Rush who was invited to speak at the 'Good Prospects For All Young People' event.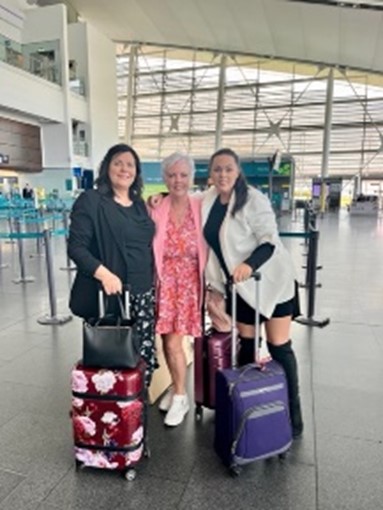 It was with great excitement and pride that we began our journey at Dublin Airport heading to Brussels and the EU Commission. Ava, our Youthreach Rush past student was invited to speak at the 'Good Prospects for All Young People' event, to mark European Year of Youth and the launch of ALMA (Aim, Learn, Master, Achieve) which first member states have pledged 270 million euro to its implementation.
We jumped in a taxi at Brussels airport and our formula one driver sped us away! Speaking in French with him for half the journey, and chatting among ourselves, he suddenly said in perfect English are you English! No, Irish was our reply to which he began to say how happy the Irish are and always smiling and enjoying life!
Arriving late at night to our lovely First EuroFlat Hotel, we booked in, checked out each other's rooms and the view of the EU Commission just outside our windows! We couldn't stop laughing as we were just so excited. We headed off to bed to try sleep and be ready for the big day.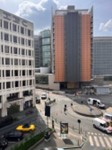 Breakfast continental style and then one-hour prep for Ava as we went through her points for her live interview. We needed to time it as she had around four to five minutes to speak. No bother at all to her! Lucky we heard her thoughts though on her time in Youthreach before we appeared live in studio as it was very emotional in that room.
Time seemed to be running so fast, so it was off to get ready and walk across to the EU Commission carrying our gift for the Commissioner; a special piece of art commissioned from our Youthreach Sallynoggin student Serge. Security checks and badges and again remarks from the main security guard about how much we smiled and laughed, so much so that he led us through a 'special entrance' on our own as if we were esteemed guests as everyone queuing looked on. Just the start of an amazing day!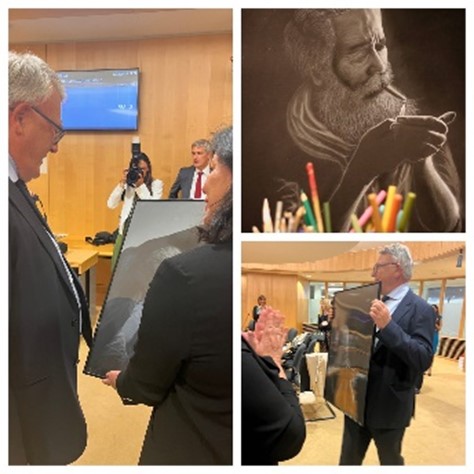 We met everyone involved with EU Youth projects and the other students who were from Italy, Poland, Sweden and the Czech Republic. They would be in the main arena in the Schuman Room, but Ava, representing Youthreach and Ireland would be live in studio with Aminata the Belgium student. Cameras were being set up, numerous translators were arriving into their studio boxes and the countdown began. We headed down to studio and Ava was whisked away for makeup and to be mic'd-up.
We met EU Commissioner for Jobs and Social Rights, Mr Nicolas Schmit. We had met him during his visit to our Youthreach Clondalkin centre, but this time we had a chance to really chat, talk in more detail about Youthreach, Ireland and share a few fun stories. It was then show time.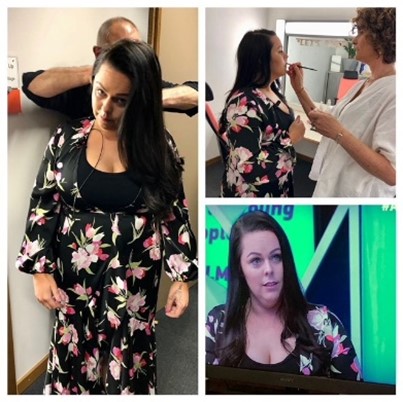 Ava was inspirational, informative and articulate as she spoke live about her life, why she chose Youthreach and most importantly how it changed her life trajectory and that of her children's. She felt 'seen' for the first time in education, she felt her 'voice was heard' and she was 'respected'. She said Youthreach 'broke the cycle' as she was 'falling through the cracks of the system' and it completely changed her life and the life of her children. It was very emotional for those present hearing it, and Ester who was looking after us for the day, had a tear in her eye when we came out of studio.
And that was it, live part over, as we headed back up to the beautiful Schuman Room to listen to and watch the rest of the event. Hearing from all those young people, highlighted the fact that every European country as the same issues and that the traditional education system does not fit or work for everyone.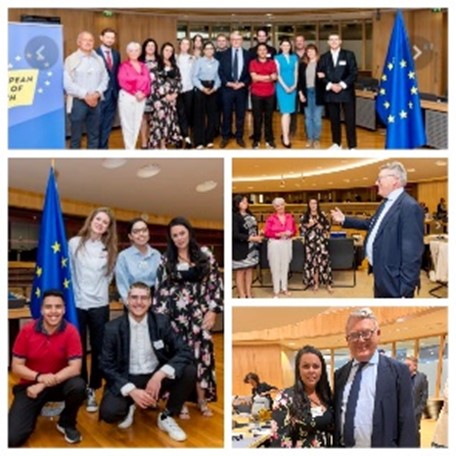 All European programmes need to be supported and financed with all the supports available, so these amazing programmes that help young people get their education and change their lives for the better, can continue to prosper and expand. Hopefully, in the future we will see Youthreach students taking part in ALMA, so when they finish in Youthreach, they can have a supervised stay abroad for a period of 2 to 6 months in another EU Member State and receive comprehensive coaching and counselling at every step and all their financial costs covered.
The day was drawing to a close and Commissioner Schmit came in to see everyone, congratulate all the young people and the whole team. Christine Hughes our Youthreach Rush Coordinator presented him with our gift; the beautiful drawing by Serge our Youthreach Sallynoggin student. He was overwhelmed and sent a special message to Serge saying 'how gifted and talented he was. The picture had an old man lighting a cigarillo. The Commissioner stated that now he had two presents from Ireland which would hang in his office and 'normally in my office you cannot smoke, but that is ok'.
It was now time to say goodbye to everyone and leave the Commission. Some final formal & informal photos before our departure. Thank you so much to Virginia, Ester, Luiza, Pirkko and all the lovely people we met.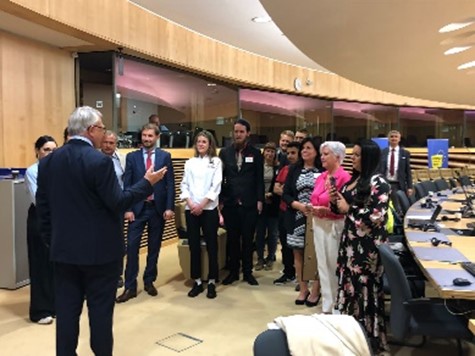 A special thanks to Commissioner Schmit for his warm & friendly welcome and his continuing support for young people and Youthreach. Looking forward to hopefully seeing you in September!
Tired legs & bodies, but hearts bursting with pride and feeling so positive for the future of Youthreach and the European commitment for numerous supports to guide and help young people with their education, personal skills, confidence and mental well-being.
Marie Rankin
https://www.ddletb.ie/wp-content/uploads/2022/05/DDLETB-Youthreach-Student-EU-Commission.jpg
757
958
Jennifer Farley
https://www.ddletb.ie/wp-content/uploads/2018/02/logo-1-1.png
Jennifer Farley
2022-05-20 14:53:26
2022-07-11 08:19:08
Former Youthreach Student Speaks At The EU Commission