WHAT DOES THE VALUE OF CARE LOOK LIKE IN DDLETB?
This school term DDLETB took the opportunity to explore what the value of care looks like. It has provided a great opportunity to highlight and celebrate the incredibly high level of care
provided to all members of the DDL community.
The Mentimeter word cloud captures the response of several DDL networks that were asked to identify what care looked like in their context.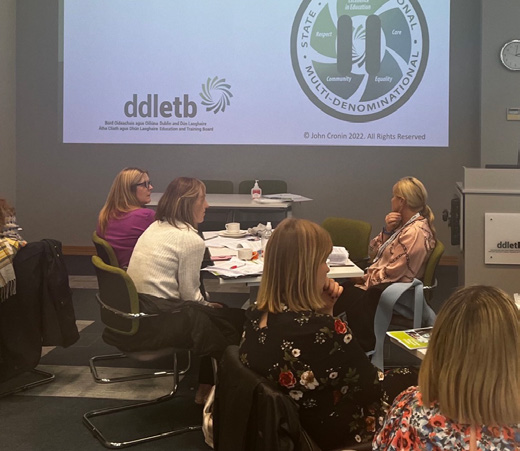 Below we have two fantastic examples of how our students are approaching the idea of care in schools.
CARE IN GRIFFEEN CC
TY students in Griffeen CC along with their teachers have been very busy ensuring they raise awareness about the ETB Ethos.
Jim the Care bear has been spotted everywhere and has even been on a few TY trips.
THE VALUE OF CARE
'SHOUT OUT' POSTCARDS AT COLLINSTOWN PARK COMMUNITY COLLEGE ACTIVITY:
'Positive postcard' will be sent home or given to students who deserve a 'shout out' for good work, behavior or both.
WHEN:
Tutors will send postcards during the time they are sending monthly attendance and punctuality letters.
CRITERIA FOR SELECTION:
Students put forward for a 'shout out' are not necessarily candidates for Student of the Month. They could be individuals that are working hard, have displayed good citizenship or have
improved over a period. In many ways, this should be used to recognize those students that are doing their best but might not necessarily get top student honours.
Qualities of a 'Shout Out' candidate
Hard-working
Completes homework
Good citizenship
Helpful and kind
Good attendance and punctuality
Responds well to correction
PROCEDURE:
Year Heads will send an email to staff members teaching their particular year group and ask if there are any students over the past month that deserve a 'shout out' for good work, behavior,
citizenship etc.
Teachers will email back to the Year Head names of any appropriate students Year Heads will compile a list of suggested students by tutor class Year Heads will share the names with
the tutors. Tutors will send /give out postcards during the next occasion punctuality letters are disseminated.
Find out more about ETHOS in DDLETB schools here.
https://www.ddletb.ie/wp-content/uploads/2022/11/Ethos-In-DDLETB-Shout-Out-Project.jpg
757
958
Jennifer Farley
https://www.ddletb.ie/wp-content/uploads/2018/02/logo-1-1.png
Jennifer Farley
2022-11-15 12:07:42
2022-12-19 08:22:27
ETHOS - THE VALUE OF CARE IN OUR SCHOOLS