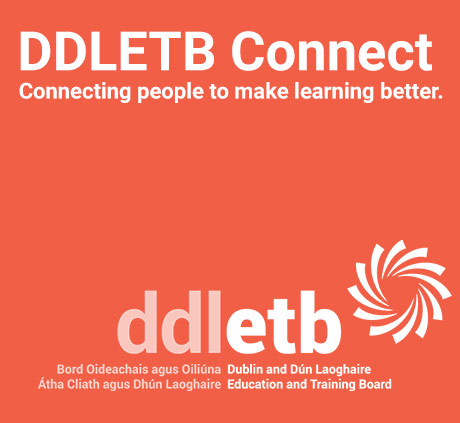 Teaching
&

Learning Resources
Great DDLETB Remote Communication and Teaching and Learning Ideas
Senior leaders in Lucan Community College found a wonderfully innovative and creative use for their Microsoft #TEAMS platform. The team created a TEAMS meeting and simply recorded a brilliant video of support and good wishes for their learning community. They shared the link https://vimeo.com/403731587
---
Kingswood Community College organised a brilliant camogie challenge for their learners. Have a look at the fabulous video they made. There might even be a few familiar faces in the video! ‪ https://twitter.com/OideShona/status/1247213137809608710/video/1
---
Collinstown Park Community College are creating amazing art using the theme of #CreateToEscape, their Junior Certificate School Programme library is hosting this great project which is encouraging learners to express their emotion and creativity through their artwork. Well done all on a great initiative. Make sure to follow them online @collinstpklib.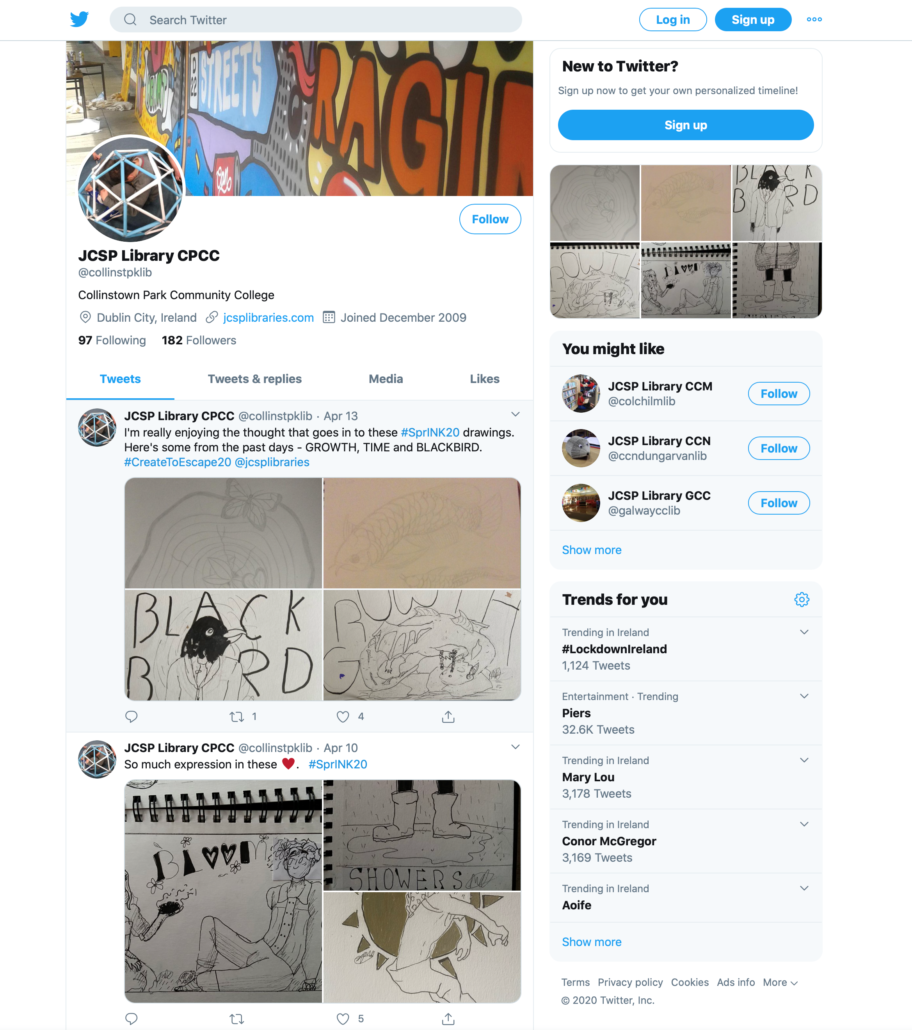 Coláiste Pobail Setanta, as part of the 'DDLETB Connect' project, recently hosted a virtual staff meeting through the Microsoft TEAMS platofrm and successfully hosted 84 people in the meeting lead by their Principal Liam Walsh. This is surely the largest TEAMS meeting to date in DDLETB. Have you hosted a bigger meeting/session, please let us know!

---
Baldoyle Training Centre TEL Hub is working hard to facilitate TEAMS training sessions for @DDLETB and keep their TEL Hub work on the go. Two incredible educators Ann Coady and Jessica Sheekey.

---
Brilliant remote learning ideas across DDLETB contexts from our youngest learners to our more mature learners…we love them all! What amazing staff, learners and parents we have onboard @DDLETB. Keep us updated via social media or email!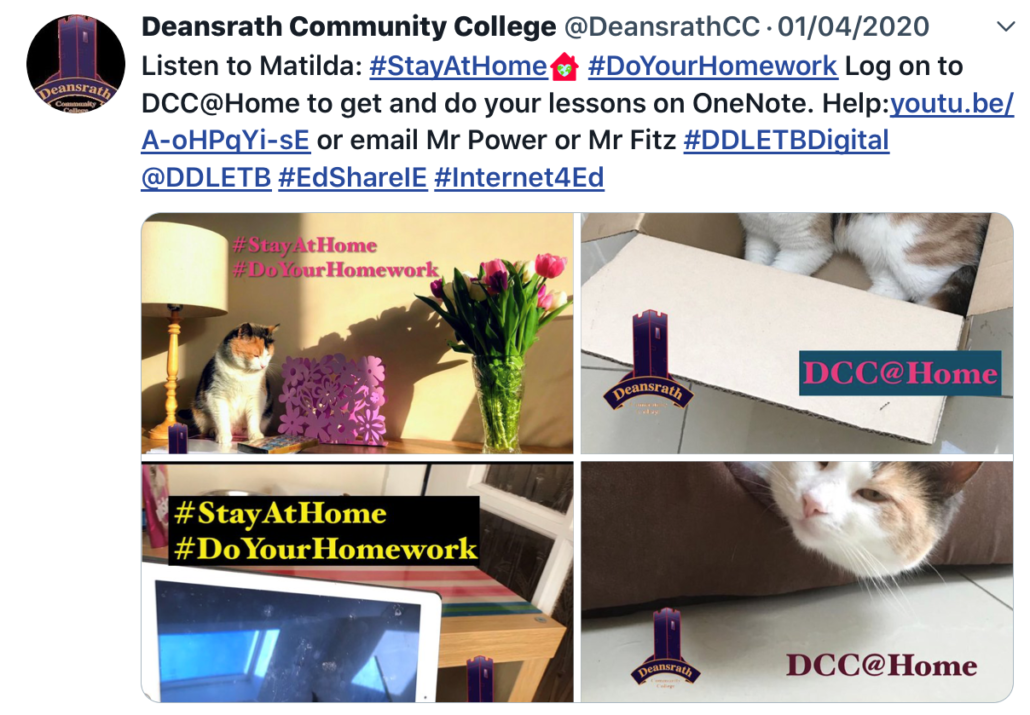 ---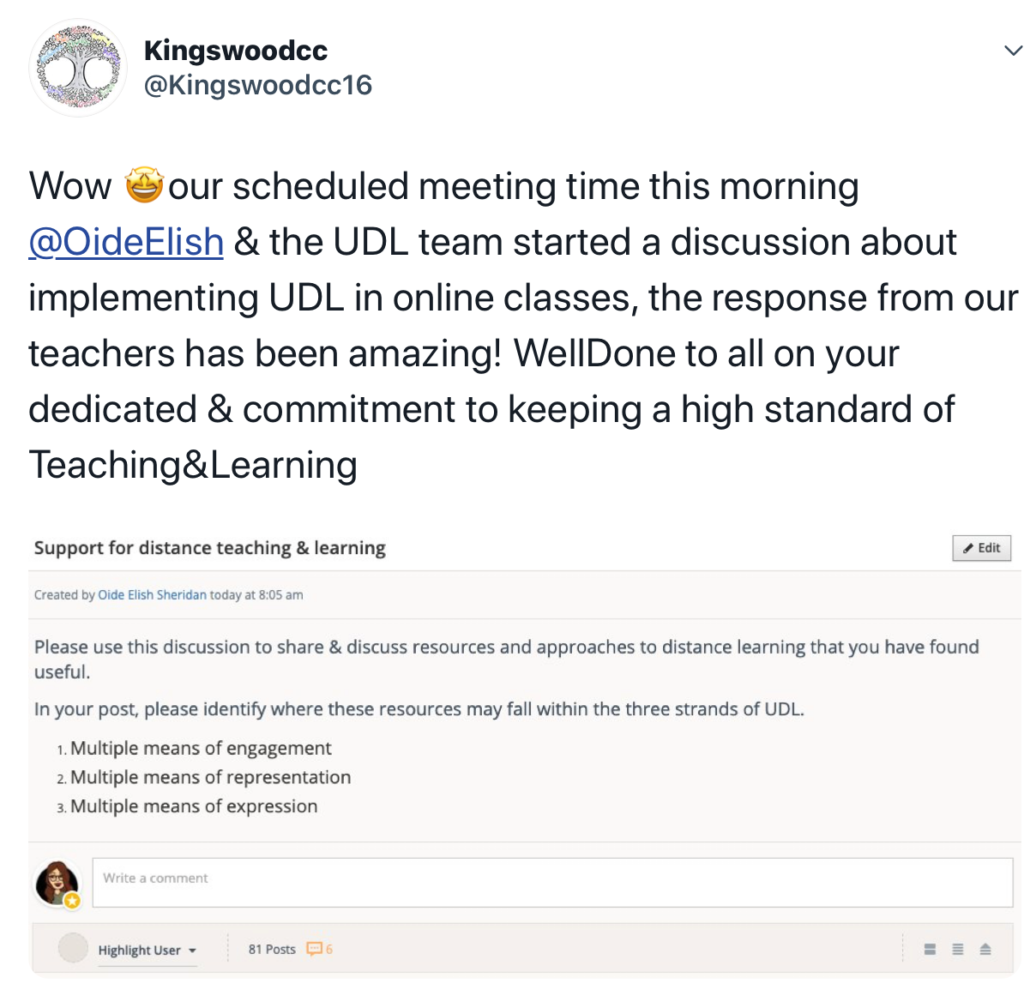 ---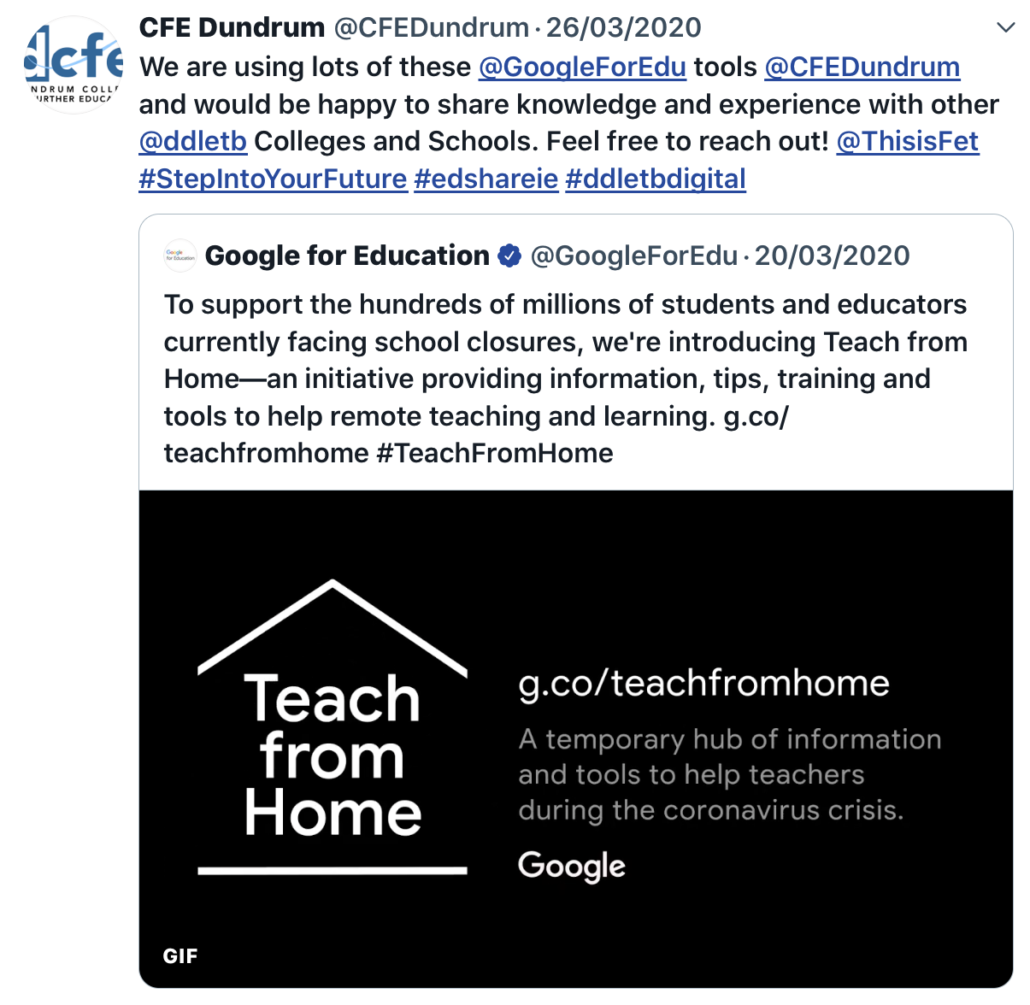 ---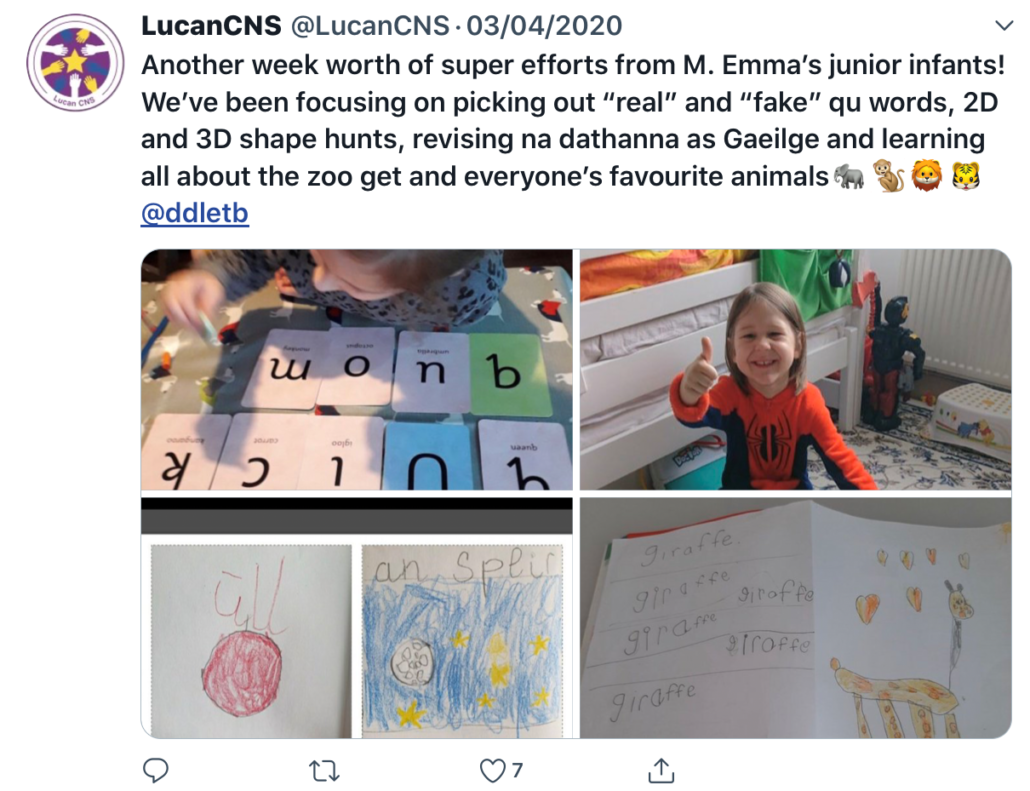 ---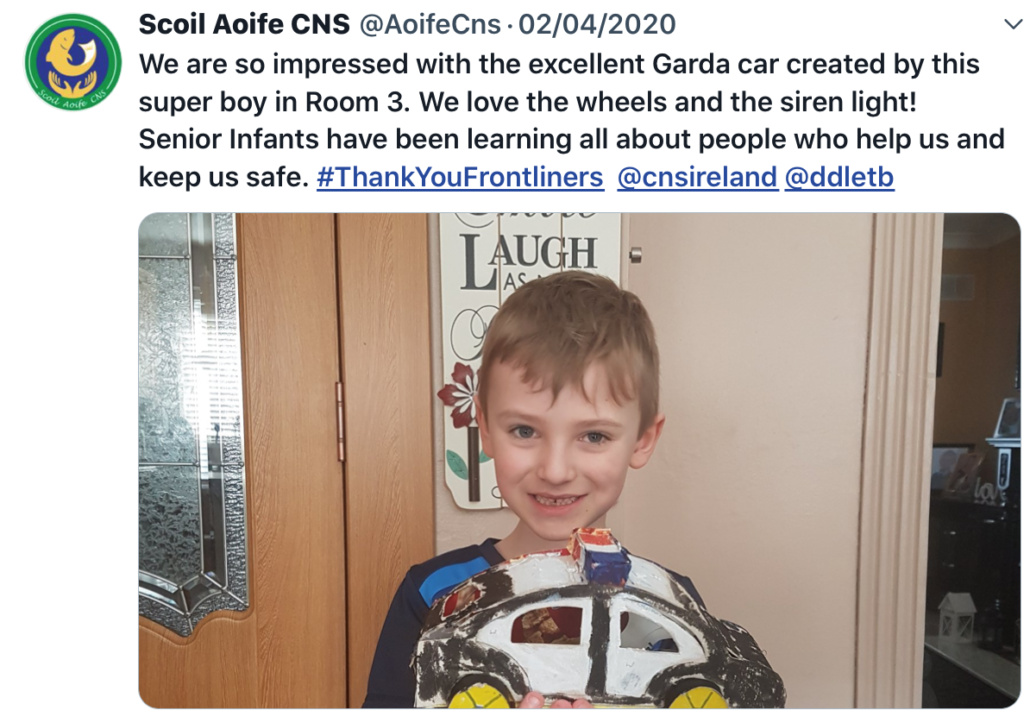 ---
---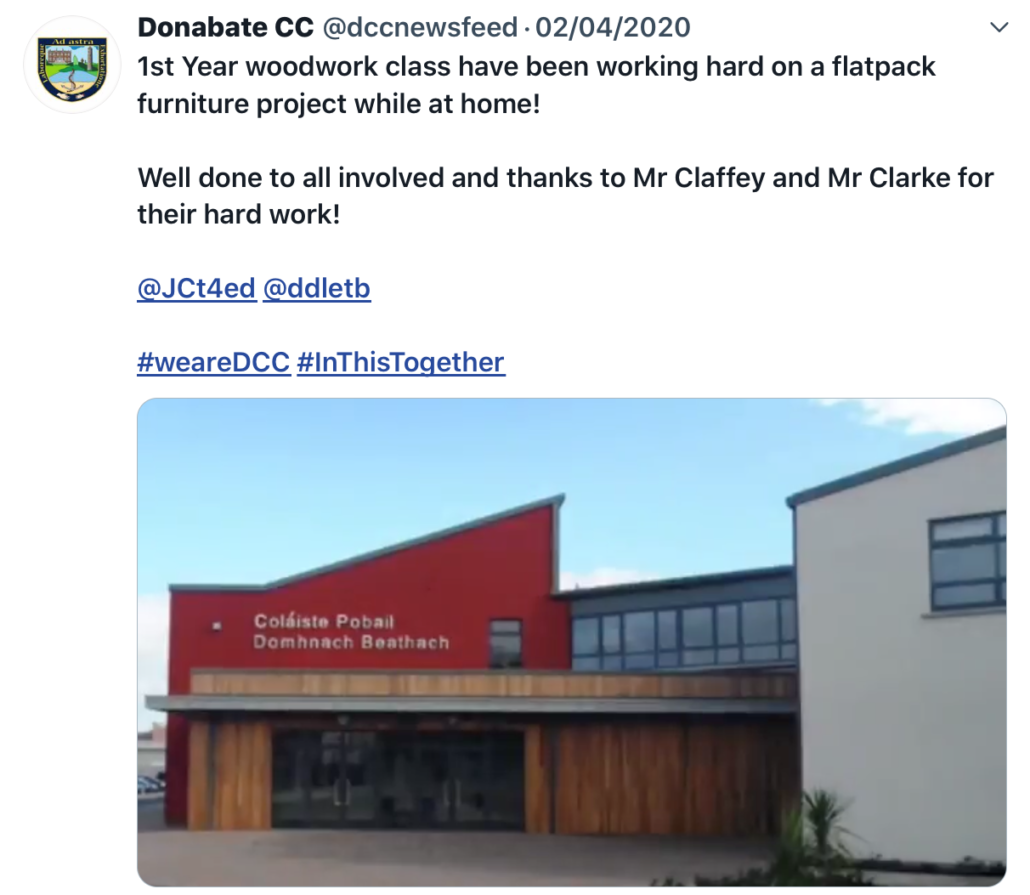 ---
Sallynoggin College of Further Education Art & Design students had 8 hours to complete a painting challenge. Originally to be completed in the college, this competition has been adapted due to Covid-19.The Art & Design students worked from home, sticking to the 8 hours and the original time slot for their competition and produced some amazing paintings amid the pandemic outside. Congratulations to them all and well done. You can use the link below to get directly to it:
https://contest.app.do/pg/the-great-scfe-painting-competition-2020
Glaoigh orainn
An Phríomhoifig: Fón 01- 4529600 9.00 am - 1 pm & 2pm - 5pm, Luan go hAoine Ríomhphost:
Fiosrúcháin Ghinearálta: info@ddletb.ie
Fiosrúcháin maidir le Soláthar: procurement@ddletb.ie
Fiosrúcháin maidir leis an Láithreán Gréasáin: webmaster@ddletb.ie
Fiosrúcháin maidir le hEarcaíocht: recruitment@ddletb.ie
Fiosrúcháin maidir le Seirbhís do Chustaiméirí: customerservice@ddletb.ie
Fiosrúcháin maidir leis an bPárolla: payroll@ddletb.ie
Fiosrúcháin maidir le Cuntais: accounts@ddletb.
Fiosrúcháin maidir leis an gCisteán: treasury@ddletb.ie
Fiosrúcháin maidir le Saoráil Faisnéise: foi@ddletb.ie
Fiosrúcháin maidir le Cosaint Sonraí: dataprotection@ddletb.ie
Fiosrúcháin Ghaeilge: eolas@booacdl.ie